Back to latest news
Oriele Frank of ELEMIS on achieving B Corp™ certification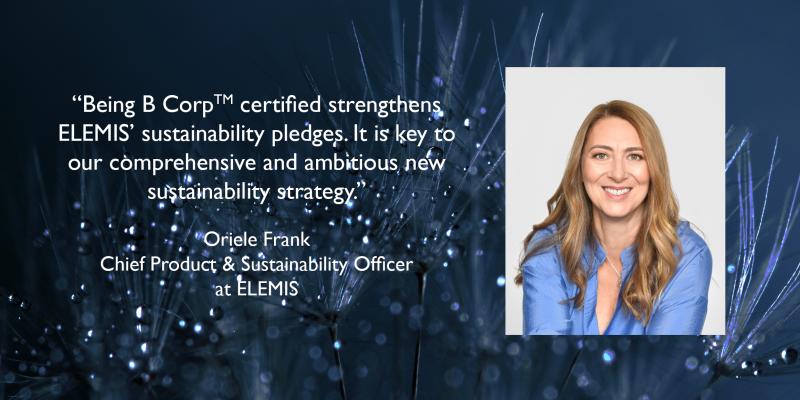 Oriele Frank of ELEMIS on achieving B Corp™ certification, championing sustainability and the challenges facing the beauty industry  
 
Oriele Frank is a co-founder of global British skincare brand, ELEMIS, which was acquired by L'OCCITANE Group in 2019. She and co-founders, Séan Harrington, CEO, and Noella Gabriel, Global President, continue to lead the brand, each with their own specialisms.
 
Today, in her capacity as Chief Product & Sustainability Officer, Frank serves on the ELEMIS board, guiding the brand's sustainability and CSR vision globally. She is also the driving force behind the development of the next generation of skin, body and wellness products with a strong focus on advanced science and sustainable principles. 
 
In this interview, Frank discusses the brand's recently achieved B Corp certification, her current role at ELEMIS, and the challenges and opportunities for the beauty industry today. 
 
 
ELEMIS has successfully achieved B Corp certification. How did that come about and what does it mean to the brand?  
As an operationally independent subsidiary of L'OCCITANE Group, ELEMIS completed a B Impact AssessmentTM independently from the Group - which pledged to being B Corp certified during 2023. To certify, a rigorous assessment of the business is required in order to meet high verified standards of social and environmentally responsible practices. We scored 93 points (the threshold is 80 points) so we're thrilled. Together with more than 6,000 B Corp businesses, we can be a real force for good in the world.

Has being part of the L'OCCITANE Group benefitted the brand's sustainable objectives?  
L'OCCITANE Group has supported and guided us in terms of sustainability and CSR, bringing a wealth of its own knowledge and experience to ELEMIS. 
 
As regards product development, how do you balance results-driven technology with sustainability? 
ELEMIS works in harmony with nature, exploring scientific innovation in natural biotech. We aim to balance what we use from the earth with innovation and science-based actives. 
  
As a luxury beauty brand that champions green policies, is it challenging to reduce packaging waste without alienating certain customers? 
 
We underline to both suppliers and customers how premium luxury can be eco-friendly and pledge to offer100% recyclable or reusable packaging, where possible, by the end of 2025. 
 
To what extent is the beauty business embracing sustainability?  
Many beauty brands and retailers are making positive changes, from implementing sustainable packaging solutions to reducing carbon footprint. 
 
As a member of the British Beauty Council, what's your view on the beauty industry's key challenges and opportunities?  
Our mission is to urge beauty industry brands to work collaboratively to influence long term, meaningful change.
How would you define the brand's CSR business model and have you the support of your employees? 
Our CSR is focussed on social and environmental causes that are linked closely with our brand ethos. All our staff make a significant contribution.
 
What is your future vision for ELEMIS, and ultimate goal? 
Being B CorpTM certified strengthens ELEMIS' sustainability pledges. It is key to our comprehensive and ambitious new sustainability strategy.