Back to latest news
Vendée Globe skipper Armel Tripon to sail around the world with L'OCCITANE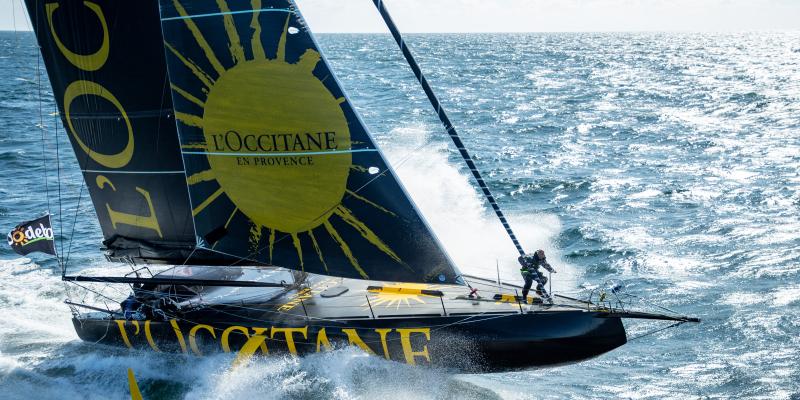 On 8 November 2020, professional skipper Armel Tripon will cast off in L'OCCITANE en Provence's custom-built boat for the ninth Vendée Globe.The round-the-world yacht race will set off from Les Sables-d'Olonne on France's Atlantic coast. Often referred to as the 'Everest of the seas', the race brings together 33 top-level athletes and companies from all walks of life for an extraordinary sports adventure that tests the limits of both technology and humankind.
The Vendée Globe takes place every four years. It will go ahead as planned in 2020, though due to the new lockdown in France, no spectators will be permitted. But for L'OCCITANE's skipper, Armel Tripon – who won the Multi50 class in the 2018 Route du Rhum – even making it to the starting line marks a significant moment.
Skipper of the L'OCCITANE en Provence IMOCA monohull
For me, it is an incredible opportunity simply to be on the starting line with the L'OCCITANE en Provence boat for this extraordinary race. But it's also the culmination of the entire team's efforts. I want to share this beautiful story with all those staying on dry land and offer them a bubble of escapism at this difficult time.
For L'OCCITANE, this dream project has been two years in the making. The esteemed French skipper Armel Tripon will compete in the Vendée Globe in a custom-built L'OCCITANE en Provence-branded boat. Designed by the visionary naval architect Sam Manuard, the monohull was built at the Black Pepper Yachts shipyard in France. L'OCCITANE teamed up with the leading experts in hydrodynamics, aerodynamics and structural engineering to fine-tune the concept behind this particular IMOCA boat, finding the perfect balance between performance and aesthetics. The aim was to create a fast, balanced, reliable, high-performance offshore racing boat, with a simple and striking visual design.
But this is not just about sports sponsorship. L'OCCITANE en Provence and its skipper Armel Tripon are taking their partnership further by joining forces to support the marine environment. Together, L'OCCITANE staff and the skipper have been helping to clean up beaches and are supporting the Plastic Odyssey expedition.
Group Sustainability Officer and Global Brand Director of L'OCCITANE en Provence
Armel Tripon loves what he does and shares his passion with others. To L'OCCITANE, he is more than just a partner; he inspires us with his talent, kindness and humility. From the first day we met, we wanted to embark on this adventure together – all the more so because he shares our values and commitment to nature.
The Vendée Globe 2020–2021 will be broadcast live on: www.vendeeglobe.org