Back to latest news
Regenerative agriculture: the revolution that will restore balance to nature and humanity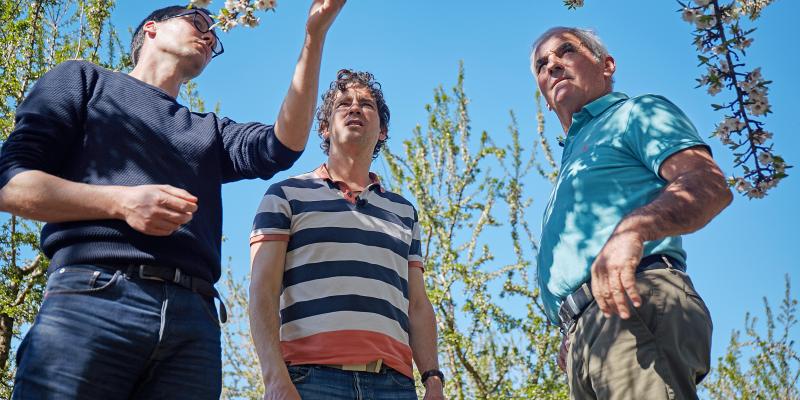 Opinion piece by Adrien Geiger, Group Chief Sustainability Officer and Global Head of L'OCCITANE en Provence.
It was the middle of the 20th century. The world had just experienced a cataclysm in the form of the Second World War. Europe's economy and populations had been brought to their knees. Everything needed to be rebuilt. On the front line of that vast building site, farmers raced to provide Europeans with food security and independence, while the economy opened up more than ever before. In fewer than thirty years they lived through, and drove, a 'silent' yet extremely powerful revolution that transformed our food, our landscapes and our relationship with nature: with financial help in particular from aid provided by the Marshall Plan, 'peasants' became 'agricultural managers', entrepreneurs at the cutting edge of technical progress. Structuring, mechanisation, agronomic research, genetic selection: an unprecedented modernisation of European agriculture had begun. 
Today, the agricultural world is once again on the brink of a revolution that is just as considerable. The future of humanity is under threat from planetary imbalances caused by humanity itself. The economic and social models we inherited from the last century have deeply destabilised our natural and human environments. Global warming is accelerating, biodiversity is being eroded at vertiginous speed, and economic, social and democratic divides are intensifying. The COVID-19 pandemic has revealed how closely human and animal health are connected to ecosystem disturbance. We must urgently rethink how we live, produce and consume, so as to reconcile human development with our planet. Agriculture lies at the intersection of all these environmental, food, health, economic and social issues, and is a key lever in resetting the balance. 
Meeting after meeting is taking place on a grand, international scale, bringing the living forces of the economy, the public sector and civil society together in an attempt to find swift solutions: the IUCN Global Youth Summit in April brought together thousands of talented young people who shared their experiences in support of nature conservation. On 22 April it was Earth Day, focused entirely on planetary restoration. And in 22 May it will be the International Day for Biological Diversity, a United Nations initiative with the message that 'failure to act is failing humanity'. 
One major topic should be loud and clear on the agenda for these meetings: regenerative agriculture. The regenerative approach is currently right at the forefront of developments in terms of the positive shift towards sustainability that we are seeing in societal models. It is no longer a matter of simply limiting external negative effects, nor even of compensating for them, but of enabling a wide-ranging regeneration.
We are becoming conscious of the limits of our ecosystems and the need to kick-start virtuous cycles, inspired by natural cycles, that will stop resources from being depleted and instead begin to renew them. The regenerative approach firmly respects the carbon cycle, which is at the very heart of our life cycles, and the renewal of soil fertility, a crucial factor that was overlooked for years as intensive farming used chemical inputs and land was left bare between crop cycles.
Let us recall that soil alone contains a quarter of all the planet's biodiversity – the majority of it in the top 20 centimetres – and that impoverished soils reduce the nutritional quality of our food as well as the diversity of the life within the soil itself. Regeneration, put simply, is a step beyond all that – beyond risk limitation, beyond sustainability, beyond organic farming, to move further and faster towards fostering a future for all living organisms. 
In practical terms, regenerative agriculture is grounded in several principles: supporting farmers' quality of life, directing farming practices towards maintaining carbon in the soil, favouring biodiversity and ecosystem restoration, supporting high-quality and more resilient crops, reducing the use of chemical fertilisers, increasing soil water retention capacity, protecting water quality and reducing the quantity of water used, and minimising electricity consumption. These principles are just as applicable in conventional agriculture as they are in organic agriculture, and they are eminently pragmatic: they can be adapted to different geographical situations, farming styles and crop types. 
The regenerative approach is at the heart of the forthcoming agricultural revolution, but will also impact all our human ecosystems more broadly. We not only need to regenerate soils and biodiversity, we also need a movement within the human and business communities that those soils feed and that live from and with the land. Hence, fair trade is a fundamental aspect of this system.
Alongside the agricultural communities with which it works very closely, the L'OCCITANE Group has embraced this conviction wholeheartedly, determinedly and with great humility: in embracing the shift towards regeneration we are embarking on a journey that will also bring setbacks, complex choices and risks. 
With our dedicated biodiversity team, led for the past 7 years by agricultural engineer Jean-Charles Lhommet, we are implementing an increasing number of agroecological and agroforestry trials in collaboration with those of our producers who are ready to take part in this adventure. Whether by "rotating" crops by introducing a greater diversity of vegetal coverage species that add biomass to the fields, or reintroducing trees and live hedgerows with their many benefits – wind-break, habitat for pollinators, beneficial effects on the soil..., the farmers involved in these trials are implementing more and more nature-inspired innovations to achieve ever higher-quality produce while restoring the land's resources. Several of the key ingredients used in our products are involved in these trials – such as shea, for example, which we source from a large agroforestry system in Burkina Faso, as well as argan, immortelle, verbena and rose. We are also focusing a number of initiatives on Provence lavender production, in particular through an endowment fund and a programme (called Green & Lavandes) dedicated to supporting the  transition towards a reduced impact on natural resources and to kick-starting the shift to regeneration in this sector – through vegetation cover, planted in between crop rows, to retain water, knit the soil, and provide a barrier against parasitic insects.
We are convinced that, in time, regenerative agriculture will establish itself as profitable – especially if we take into account its ability to capture carbon and increase the fertility of the soil. Note that intensive agriculture only appears to be profitable nowadays because we do not make farmers or their customers pay for the debts they generate by damaging the soil and the water table.  
Agricultural producers are at the heart of this change: we want to support them and accompany them as much as possible as they change their practices. Since this is a matter of general interest, we and our community of farmers are firmly committed to making these transitions open source, sharing our good practices and innovative approaches. That is why we will be launching an agroecology collective with several of our producers, to share on an open-source basis and take concrete steps to promote regenerative and fair farming practices. 
Given that the regenerative shift implies a substantial transformation, it is not something that can be achieved alone. At L'OCCITANE, we believe in the power of collaborative approaches – not only with our community of producers but also with other companies and existing technical supply chains. That is why we have joined the international cross-sectorial coalition OP2B (One Planet Business for Diversity), which brings together 27 businesses from across the world that are leaders in the agricultural value chain, working to sustainably transform agricultural models in order to protect and restore biodiversity. Alongside promoting the diversification of crops and ecosystems for the high value added, developing regenerative agriculture is one of this ambitious, committed coalition's three main action priorities. Together, and supported by experts and scientists, we are able to fund, test and expand regenerative agriculture on a large scale, and even establish new indicators and standards – in particular as regards the production of what we call 'commodities', that is, 'basic' ingredients used in large quantities in many products, such as palm oil, wheat, sugar cane, alcohol and beets. 
Once again, the agricultural world finds itself at the centre of a great, global transition – an unprecedented ecological, economic and social transition. For the professionals in the sector, this is an extremely important step: the transition to operating on regenerative models is just as onerous and exacting, if not more so, as mechanisation was in its day.
It affects the entire agricultural system and demands substantial investment. Since its benefits affect us all, the agricultural sector should not be bearing the costs of these changes alone. The challenge we face is to provide the means for this change, by directing public and private finances as well as national and European regulatory developments towards this objective. As in the case of organic farming or our commitment to fair trade,  regenerative agriculture will also gain from certification mechanisms being put in place that will enable the general public and end consumers to play a part in this paradigm shift. While we need to extract ourselves from the productivism we have been accustomed to, we also need to preserve the dynamics of production. This is an equation that demands a good deal of pragmatism, support and, to reiterate it, decisive investments.  
Beyond the challenge of financing, we must above all appreciate that we are on the brink of a true cultural revolution: farmers, besides being producers of natural raw materials, will become real generators of biodiversity. We must progressively recognise and value them highly as such. If we support them appropriately, our farmers have the power to become regenerators of life, and they should do so with pride.