Back to latest news
Plastic Odyssey unveils its laboratory ship with its partner L'OCCITANE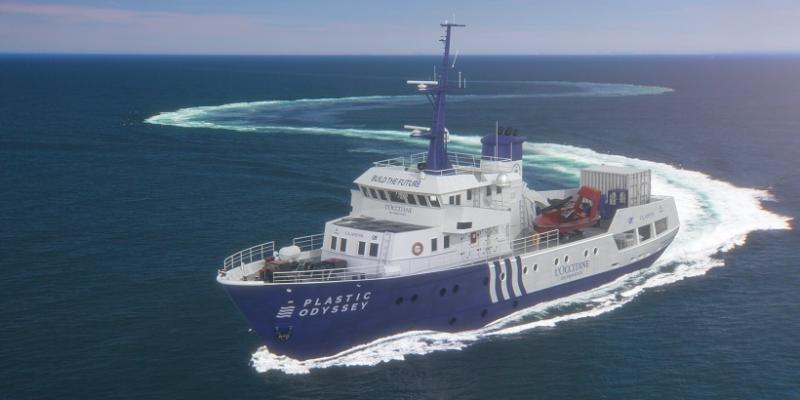 Alongside its partner L'OCCITANE en Provence, a global manufacturer and distributor of natural beauty and wellness products, Plastic Odyssey unveiled a scale model of its ship at the ChangeNOW Summit 2020. Ready to set sail this autumn on a three-year, round-the-world expedition, the vessel is a 'recycling laboratory' which aims to share information about accessible plastic waste recycling techniques. At the same time, it will aim to raise awareness among the populations encountered along its journey, which will take it to the most polluted coasts of Africa, Latin America and Asia.
Using fuel derived from plastic waste converted by pyrolysis, the Plastic Odyssey vessel will take its crew – 20 engineers, sailors, anthropologists, entrepreneurs, visual designers and volunteers – to more than 30 ports of call along the most polluted coasts of Africa, Latin America and Asia. During each leg of the journey, plastic waste will be collected, sorted and recycled on board with the aim of raising awareness. The approach seeks to draw the general public's attention to the problem of plastic pollution in the oceans, demonstrate the value of this waste once transformed into a new resource, and share simple and accessible recycling technologies.
As a signatory of the New Plastics Economy Global Commitment implemented by the Ellen MacArthur Foundation, L'OCCITANE en Provence is financing the expedition as well as the educational resources used during Plastic Odyssey's stopovers. Supporting the expedition is part of the brand's efforts to achieve its vision of a circular economy which gives a second life to polluting materials. It embodies the concrete actions being taken according to a three-pronged approach: Reduce, Recycle and React.
Global Brand Director of L'OCCITANE en Provence
We were quickly won over by the concept. The approach is original, well thought out and constitutes a concrete response to this environmental emergency. L'OCCITANE is very proud to contribute directly to this extraordinary mission.

 
For more information about Plastic Odyssey, please visit https://plasticodyssey.org
More on the partnership between L'OCCITANE en Provence and Plastic Odyssey here