Back to latest news
The New Plastics Economy: the Ellen MacArthur Foundation names L'OCCITANE en Provence as one of the most engaged brands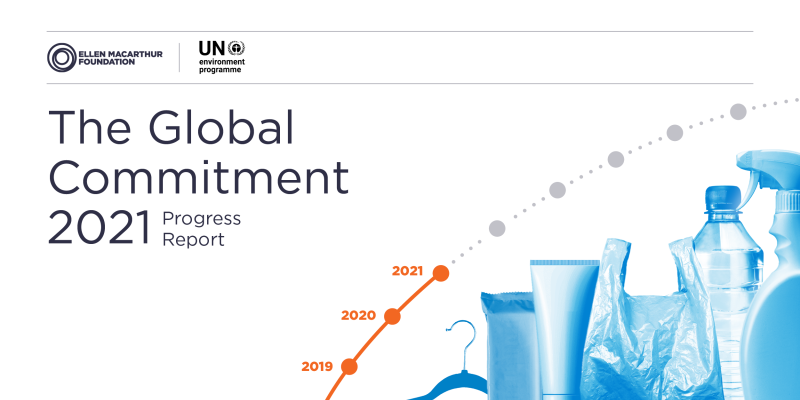 The Ellen MacArthur Foundation has published its 2021 progress report on the New Plastics Economy Global Commitment, which measures the progress made towards a circular plastics economy by the businesses, governments and other organisations that have signed it. On the strength of its convincing results and ambitious objectives, L'OCCITANE en Provence has been recognised as one of the most committed brands in the fight against plastics and plays a leading role among companies in the cosmetics sector.
This recognition means a great deal to us. It confirms the legitimacy of the strategies and actions we've put in place to tackle plastics pollution and, at the same time, gives us the encouragement to go even further
Thanks to key data (such as packaging volumes and percentage of recycled content), the report delivers an unprecedented level of transparency. In particular, the signatory businesses commit to eliminating 'problematic' packaging and increasing their use of recycled plastics five-fold between 2019 and 2025. Likewise, the Foundation calls for action to eliminate, reuse and innovate in their use of plastics, as well as to develop circular practices to avoid waste and pollution. 
Cultivating change 
L'OCCITANE en Provence believes that consumption and regeneration are inextricably linked. What's more, as an international beauty business, L'OCCITANE has taken up the role of 'cultivator of change', which guides its actions at every level, from the conception phase to the manufacturing of packaging. 
By signing the New Plastics Economy Global Commitment in 2019, L'OCCITANE en Provence has committed to acting transparently and to continuously seek to improve its efforts. As such, between 2018 and 2025, the brand aims to use an average of 40% recycled plastic in everything it produces – compared to 21,4% today – alongside a 10% reduction in the total weight of the plastic used every year (however much its operations scale up in that time). 
The brand has also set itself the ambitious target of reaching 100% in three categories by 2025: 
100% of plastic bottles will be made from recycled materials
100% of plastic packaging will be recyclable, reusable or compostable 
100% of its owned stores will offer a recycling service.
Three axes of intervention
The Ellen MacArthur Foundation's objectives are an integral part of L'OCCITANE en Provence's commitment to reducing waste, which is based around three axes of intervention.
Reduce – reduce waste and improve products' longevity
L'OCCITANE en Provence is constantly looking to do away with unnecessary single-use plastics completely. That is why it has committed, for example, to reducing the total amount of plastic it uses each year by 10% in terms of weight by 2025 and to completely eliminating cellophane from its products by 2022.

L'OCCITANE en Provence also offers solid shampoos – an alternative that the Ellen MacArthur Foundation mentions as an example in the first section of its report. For this NGO with its commitment to eliminating plastics, this is the most decisive step that can be taken.
L'OCCITANE en Provence has also been reducing waste by gradually rolling out 'refill fountains', which extend the brand's commitment to marrying simplicity with innovation, since 2021. For five of the brand's iconic products, customers can refill their Forever bottle – which is made of lightweight aluminium, recyclable and produced using 100% recycled materials – with their desired amount (250ml or 500ml). These eco-designed fountains use 94% less plastic than traditional packaging.
Likewise, the brand offers eco-refills for 25 of its bestsellers: containers that use an average of 85% less plastic than a traditional bottle, meaning about 200 tonnes of plastic saved each year. These figures are set only to improve, with the ambition of eco-refills being 100% recyclable by 2025.
Recycle – towards a circular economy
Beyond its actions to reduce plastics and develop virtuous cycles, for the last ten years, the brand has been using bottles made from 100% recycled PET for its Aromachologie hair care range. The 300ml and 500ml liquid soap bottles are also made from 100% recycled plastic. 65 L'OCCITANE products are packaged in 100% recycled plastic.
React – encourage the responsible and sustainable use of plastic
To extend its efforts beyond its value chain, L'OCCITANE works with the most innovative businesses and organisations to combat environmental pollution. To this end, the brand is involved in world-leading and committed projects such as the Plastic Odyssey expedition, SPICE and BeMed.
In June 2021, L'OCCITANE en Provence joined over 150 entities in the packaging sector (businesses, NGOs, experts, and charities) to respond to the Ellen MacArthur Foundation's call for extended producer responsibility (EPR). In particular, this initiative intends establish collection systems that the signatories are bound to use and pay for to cover the costs of – and so essentially ensure – the sorting and recycling of packaging in line with a circular economy philosophy. 
These few examples reflect just part of the L'OCCITANE Group's sustainable commitment, which is detailed every year in its Environmental, Social and Governance Report.