Back to latest news
L'OCCITANE showed solidarity on all fronts in 2020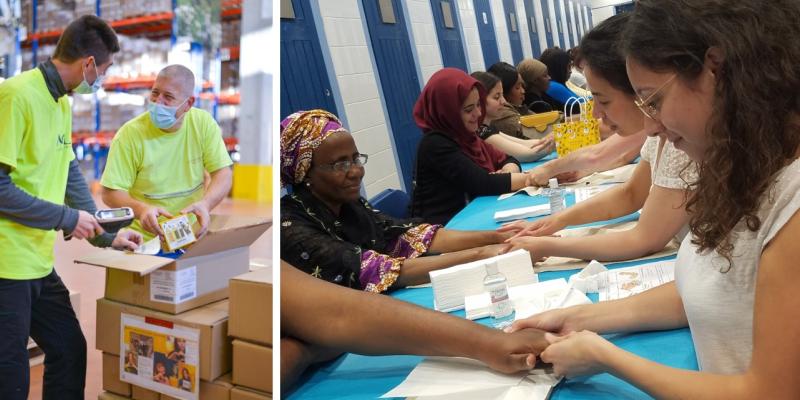 Supporting the common good has been at the heart of L'OCCITANE ever since it was founded. Its support and action in the name of mutual aid and solidarity are varied – from corporate philanthropy action and the donation of over a million hygiene and skincare products in 2020 through to its employees' commitment to causes close to their hearts.
The Group often relies on the local knowledge of charitable organisations. For example, during the financial year 2020, it supplied some 275,000 unsold products to the NGO Dons Solidaires, which redistributed them to 219 charities.
When the pandemic struck, the Group was also among the first manufacturers in Europe to adapt its production lines, making over 77,000 litres of hand sanitiser available free of charge to hospitals and health professionals – not to mention donations of soap and moisturising hand cream. Likewise, L'OCCITANE strengthened its support of shea butter producers in Burkina Faso to help protect them from COVID-19. 
The L'OCCITANE Group's corporate philanthropy policy and its support for impactful projects are funded in several ways:
the L'OCCITANE Foundation and the LimeLife brand's Brighter Together Foundation 
profits from the sale of designated 'solidarity' products
direct donations to charities by the Group's subsidiaries
Group employees, either by 'rounding up' their salaries (in France) or through volunteering.
10 years of support for NGO Dons Solidaires
Since 2011, L'OCCITANE has partnered with the NGO Dons Solidaires, whose impact is based on a simple and effective principle: to collect unsold non-food stock and redistribute it to charitable organisations. In doing so, it fights against both social precarity and waste. Between April 2019 and March 2020, some 275,000 hygiene and skincare products – estimated to have been worth almost a million euros – were donated by the Group's brands and redistributed to 219 charities across France.
Director of Development at Dons Solidaires
Our work on the ground is carried out by volunteers from our regional offices. The Provence-Alpes-Côte d'Azur office was established in 2017 with the support of the L'OCCITANE Foundation, which aimed to help us strengthen its close links with the regional organisations.
These varied actions have a common goal: to give the beneficiaries a break from their daily struggles and to boost their self-esteem. Just a few examples are:
well-being workshops as part of Mother's Day celebrations for women in precarious situations, organised at the L'OCCITANE site in Manosque
beauty treatments provided by L'OCCITANE Group colleagues at the SAMU social de Paris (an organisation that provides emergency care on a humanitarian basis)
product donations for beauty workshops to improve the well-being of psychiatric patients and those recovering from addiction in the Nord region, delivered with the Association Archipel, as well as to a 'social cafe' in Lyon called L'Olivier des Sages, which helps fight loneliness among the elderly.
Solidarity in response to the pandemic
The health crisis has made it clearer than ever that not only resilience and adaptability but also solidarity are crucial. The L'OCCITANE Group adapted its production line so that it could supply hospitals with more than 77,000 litres of hand sanitiser for free.
The Group has also distributed soap, shower gel, hand lotions and balm, as well as protective equipment, and has given money to research. Such donations have been made in over 30 countries with the help of local initiatives organised by the Group's brands.
What's more, the L'OCCITANE Group has remained very active with its partners who supply natural raw materials – often family farmers – to soften the potential blow of the pandemic on their income as much as possible. For example, in Burkina Faso, 80% of a shea butter delivery that was pushed back until September was paid in advance.
Employee community investment programme 
Set up by Laboratoires M&L, the community investment programme (Programme Engagement des Salariés, or PES) aims to encourage colleagues to support charitable causes. The Group offers each of its employees in France and Switzerland one day per year to volunteer for a charity that has been recommended by an employee of the company. In 2019, 212 employees took up the offer, representing 1,500 hours of volunteering. 
Employees in France also have the opportunity to make monetary donations to charitable associations via the social enterprise microDON. They can choose to 'round up' their salary with a donation of a few cents a month (or more, if they wish) to support projects nominated by the L'OCCITANE Group that, via the L'OCCITANE Foundation, then doubles the amount of money given. A total of over €10,000 was donated in the financial year 2020.
For more information about Dons Solidaires, please visit: Donsolidaires.fr