Back to latest news
L'OCCITANE partners with Madame Figaro in its fight against avoidable blindness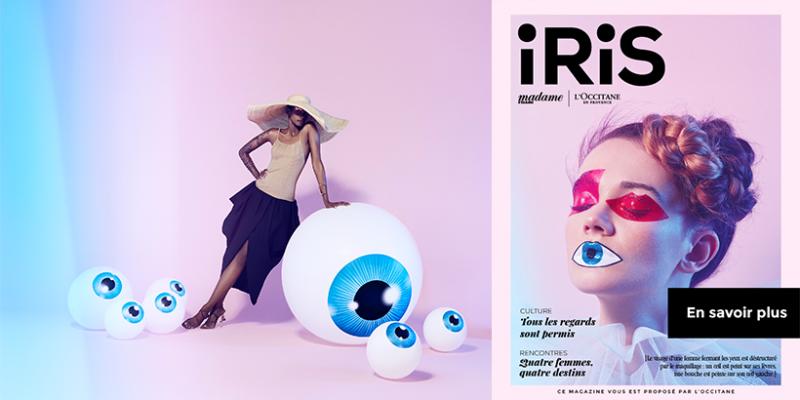 L'OCCITANE en Provence has once again shown its support for fighting against avoidable blindness, this time through an inspiring partnership with the leading French lifestyle magazine, Madame Figaro. Together, they have published IRIS, a limited edition of the magazine in print and digital designed especially for the blind and visually impaired.
The drive behind the partnership was a combination of building awareness about L'OCCITANE's continued efforts to combat avoidable blindness, and the opportunity to provide those who suffer with some truly engaging content. The special edition includes interviews, feature articles and news about all of the regular Madame Figaro topics, from culture to fashion, beauty and lifestyle, without neglecting the all-important images. Using the photographer Romin Favre, 6 pages of fashion photos were shot especially for the magazine!
IRIS has been developed in strict accordance with the accessibility regulations to ensure optimal user experience. The 115,500 printed copies will go on sale across France on 1st June 2018, accompanied by a dedicated digital platform. 
This is one of many inspirational projects led by the L'OCCITANE Group in its fight against avoidable blindness. The Group has been supporting this worthy cause for more than 20 years since  L'OCCITANE en Provence first used Braille on its product packaging in 1997. The L'OCCITANE Foundation funds projects that facilitate access to eye screening, eye care, medical training, research and innovation. More than 2 million people have received eye care support to date, with a goal of reaching 10 million by 2020. Throughout the month of June, the Group's 8,500 employees will be pulling together for the 3rd edition of its annual "Race For Vision" to raise money for this cause. The L'OCCITANE Foundation also currently partners with UNICEF to fight against child blindness.
#IRISforvision