Back to latest news
L'OCCITANE launches world's first #MEGA sustainability concept store in Hong Kong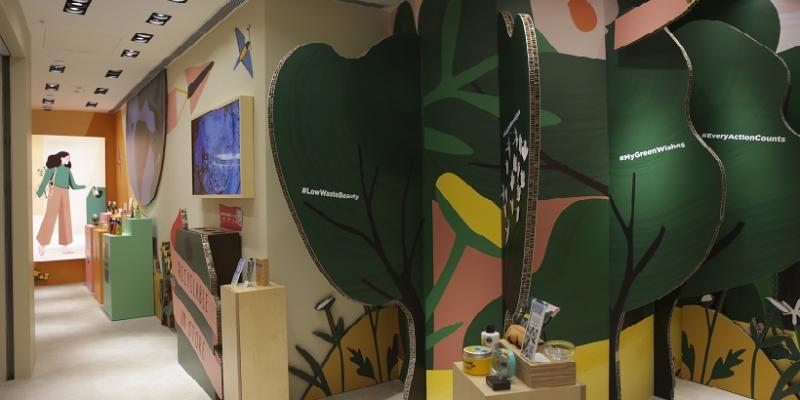 #MEGA stands for #MakeEarthGreenAgain. On 22 January, L'OCCITANE en Provence opened its world's first #Mega Sustainability Concept Store at Pacific Place, Hong Kong. It invites the local community to join forces in reducing plastic waste and support the local sustainable plastic economy.
The #MEGA Sustainability Concept Store engages the public in environmental protection in a fun way with the #MEGA Sustainability Reward Program. Shoppers can earn rewards by achieving varied 'green tasks' – from dropping their beauty empties to the recycle bins in store and making a green commitment with the Tree of Wishes to completing a three-minute personal carbon footprint evaluation. Collaborating with different environmental NGOs, the store will regularly host pop-up eco-themed workshops, in order to inspire public participation in recycling. While the brand has never used plastic bags in its stores, the #MEGA Sustainability Concept Store goes one step further: no bags will be provided in-store to encourage customers to bring their own.
The #MEGA Sustainability Concept Store supports the A Plastic Ocean Foundation (APO) to transform post-consumer plastic into recycled plastic (rPET) products. APO is a charitable organisation registered in Hong Kong, dedicated to create a wave of change to stop plastic pollution. L'OCCITANE has already provided 40 kg of PET collected from customers. In return, APO has created 1,000 pieces of #MEGA sandwich bags and 1,500 pieces of #MEGA towels made of rPET.
General Manager of L'OCCITANE Hong Kong and Macau
L'OCCITANE's commitment to society and the environment, with its aims of protecting and regenerating biodiversity and reducing its carbon footprint and plastic waste, are driven by nature. The #MEGA Sustainability Concept Store is our invitation to the public to explore how we can reduce plastic pollution together.
L'OCCITANE continues the fight against plastic pollution worldwide
L'OCCITANE en Provence is one of the signatory companies of the New Plastics Economy Global Commitment led by the Ellen MacArthur Foundation in collaboration with the UN Environment Programme. In a bid to become more circular, L'OCCITANE is following its three R's: Reduce, Recycle, React. The brand has pledged that, by 2025, 100% of its bottles will be made out of 100% recycled plastic, and 100% of its company owned stores will offer a recycling service. As early as 2014, the brand launched a partnership with TerraCycle, a company specialising in recycling hard-to-recycle waste. This partnership encourages consumers to recycle, upcycling empty beauty containers to avoid landfill or incineration. It also offers a recycling service in countries where customers do not have access to recycling as well as the chance to recycle certain packaging that is not accepted at public facilities. Currently, 42% of L'OCCITANE's owned stores worldwide offer in-store recycling, and the goal is to expand that to 100% by 2025.