Back to latest news
L'OCCITANE en Provence launches in-store Refill Fountains to reduce plastic waste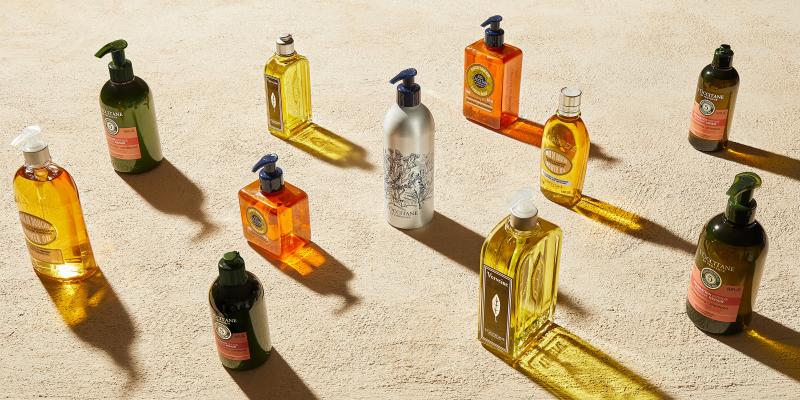 Continuing its legacy as a brand committed to actively diminishing its environmental footprint, L'OCCITANE en Provence offers an in-store refilling and bottling experience in selected boutiques. This innovative initiative allows customers to bring home some of their favourite signature L'OCCITANE products while contributing to the reduction of plastic waste.
L'OCCITANE is installing the Refill Fountain in its boutiques across Europe, the USA, Canada and Asia, thus expanding the brand's commitment to combining simplicity and innovation in creating products and programmes respectful of people and nature.
The Refill Fountain is L'OCCITANE's latest initiative in its ongoing mission to sustainably and responsibly reduce waste
In 2008, the L'OCCITANE introduced Eco-Refills, an eco-friendly packaging solution that launched with liquid soaps and has now grown to include over 25 references. These Eco-Refill pouches use on average 85% less plastic than regular bottles, saving roughly 200 tons of plastic each year. The brand now goes one step further by introducing its Refill Fountain, which will continue to increase the amount of plastic saved for years to come.
Group Chief Sustainability Officer and Global Head of L'OCCITANE en Provence
We are facing an environmental crisis, and companies need to do more than reduce their impact on the planet. They have a responsibility and a duty to find real, concrete solutions in order to generate value for our ecosystem.
Global plastic use is at a breaking point, with more plastic produced in the last ten years than in the previous century. L'OCCITANE is concerned about the effects of this plastic pollution on the environment and is committed to gradually eliminating single-use and unnecessary plastic. By thinking globally and acting locally in its boutiques around the world, the brand aims to drive significant and positive change.
The Refill Fountain currently offers refills for three of L'OCCITANE's essential products: Classic Verbena Shower Gel, Citrus Verbena Shower Gel and Shea Verbena Liquid Soap.
 
Clients select their product and choose from two refill sizes by purchasing L'OCCITANE's new Forever Bottle, available in 250 ml and 500 ml. Made of long-lasting, lightweight, recyclable and 100% recycled aluminium, each bottle is embellished with the imagery of L'OCCITANE's signature ingredients. The one-time purchase of a full Forever Bottle is the same price as the classic product of the same size.
The Refill Fountain's ingenuity lies in its simplicity, convenience and versatility. The machine itself is simple to operate and has been adapted to accommodate L'OCCITANE's formulations and products. Most importantly, the Refill Fountain has been specially engineered to ensure the quality control, traceability and strictest health & safety standards systematically required by L'OCCITANE. The machine is calibrated to hygienically dispense the exact amount of product refill selected by the client. All products are dispensed according to their original batch number, which is recorded on every bottle, once filled. This new labelling convention also specifies the list of ingredients.
L'OCCITANE en Provence's Refill Fountain allows its customers to become a part of its overall ecosystem, a final link in the chain from nature to bottle.