Back to latest news
25,000 soaps ready for distribution to female shea producers in Burkina Faso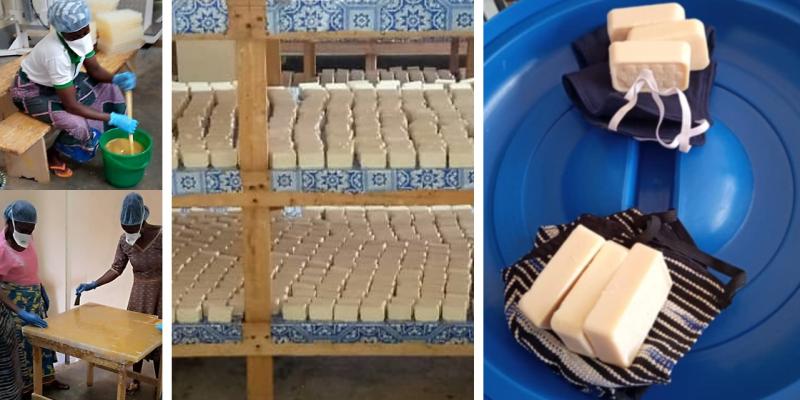 In support of its suppliers of natural raw ingredients, the L'OCCITANE Group is distributing protective equipment and hygiene products to its female shea butter partners in Burkina Faso to help their communities curb the spread of the pandemic.
Over 25,000 soaps, more than 18,000 face masks and a number of other health supplies are ready to be distributed to 8,500 women and their local health and production facilities. These items have been crafted locally, thus also providing new sources of revenue.
L'OCCITANE's Sustainable Ingredients Specialist in charge of shea butter
For over 30 years, L'OCCITANE has sourced fair-trade shea butter from cooperatives in Burkina Faso. Keeping these communities safe is paramount. The needs are enormous and we are making every possible effort to help them safeguard their livelihoods.
The soaps have been manufactured by NUNUNA, one of L'OCCITANE's shea butter producer cooperatives. NUNUNA owns a shea soap factory that previously supplied soaps for the Group's charity fundraisers, and the factory's original L'OCCITANE moulds were even used to produce the new soaps. Other cooperatives also contributed to the effort by producing nearly 1,700 bars of soap.
Each COVID-19 health kit includes two cotton fabric face masks, crafted locally in line with Burkinabe government guidelines, as well as three 50g shea soap bars. In addition, 90 primary healthcare facilities, 10 environmental services and 20 shea butter and almond production centres will receive a hygiene pack consisting of a locally produced hand wash station, as well as soap and bleach.
This emergency assistance was made possible thanks to one of L'OCCITANE's financial partners in the Resilience, Ecology, Strengthening, Independence, Structure, Training (RESIST) programme: develoPPP.de*, which is funded by the development agency of the German Federal Ministry of Economic Cooperation and Development, has offered an additional €50,000 to help shea workers fight COVID-19. The support for women shea butter producers is made up of three core actions by L'OCCITANE's employees and its local partner, the NGO NITIDAE: raising awareness of shielding measures, providing protective equipment and supplies and strengthening the economic resilience of the local population while their work is suspended.
*The develoPPP.de programme is run by the SEQUA organisation, which has helped L'OCCITANE implement the RESIST programme since March 2018.