Respecting the planet, reducing our carbon footprint and preserving biodiversity.
The L'OCCITANE Group aims to limit its environmental impact at every stage of the product lifecycle, from formulation through to distribution in-store.

In 2016, we entered into a three-year partnership with the IUCN*. This partnership focuses on:
- identifying the impact of our activities on biodiversity and implementing an action plan to reinforce our commitments
- supporting the IUCN project in France to produce a red list of ecosystems for France's Mediterranean coastlines and forests so as to increase knowledge about biodiversity and raise awareness of the challenges involved

We also support several local projects that aim to preserve the natural Mediterranean heritage and ensure that any harvesting of wild plants respects the sustainable harvesting charter so as to preserve the natural environment.

*International Union for Conservation of Nature.

Respect for nature and biodiversity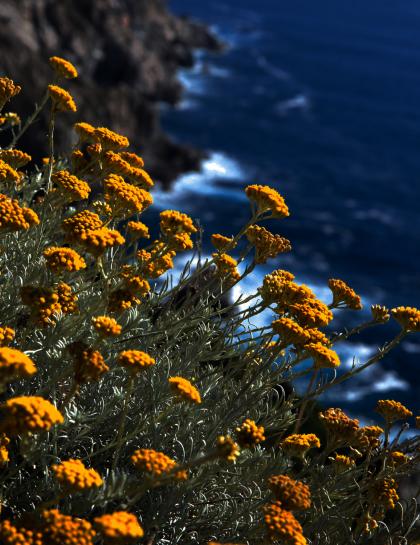 "Authentic products inspired by nature are at the centre of the L'OCCITANE Group."

Building long-term partnerships based on trust and respect.

The L'OCCITANE Group sees nature as a role model and use the natural properties of plants as inspiration to drive innovation. We are dedicated to developing long-term relationships with our producers and prioritise short, local integrated channels when sourcing our key ingredients.

In 2004, the Group set up its first large-scale organic immortelle plantation programme in Corsica. The initiative unites respect for the environment with equality, and received recognition by the French Minsiter for Ecology in 2013.

In Burkina Faso, the Group has been committed since 1980 to collaborating with the shea producer women, and today works with more than 10,000 women. In 2018, we launched the RESIST program that will see 2 million dollars invested into helping the shea women become autonomous, and to protecting the shea parks. More than 10,000 women will benefit from the program.

Our ultimate aim is to source 100% organic shea.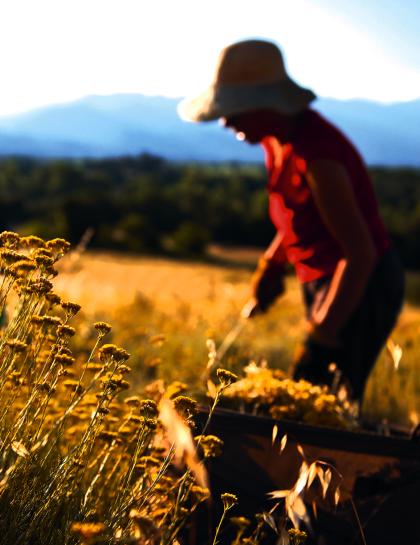 "We're very involved at ground level and know our raw products and our suppliers inside out. It demonstrates our credibility throughout the entire process, from the basic seeds right through to the finished products."

Choosing responsible suppliers.

Being a responsible business partner for subcontractors and suppliers is one of the Group's priorities. Since 2011, our French subsidiary has been a signatory to the United Nations Global Compact. Fair practices and fighting corrpution are high amongst our concerns.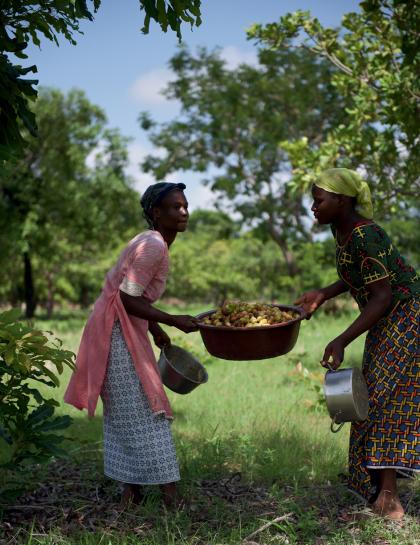 "We reaffirm our support for the 10 principles of the United Nations Global Compact. Each year, we highlight the various initiatives undertaken by the Group, as well as our progress indicators, in our corporate responsibility report."
Reinold Geiger, CEO
Discover
Our commitment to sustainable sourcing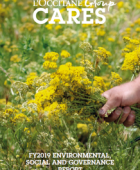 FY2021 Environmental, Social and Governance Report
Download
PDF - (14.96 MB)
Awards and certifications
Certifications
Sustainable sourcing
"Fair for Life" standards
Fair trade is controlled by the "Fair for Life" standards. The "Fair for Life" standard applies to products that are traded between countries in the Northern and Southern hemispheres.
"Fair for Life" is based on 4 fundamental commitments: ethics (insurance for producers to sell at a minimum guaranteed price and for workers to receive a decent wage); social (dignified working conditions, collective organisation and a development fund for producer communities); health and the environment (a production process that respects natural resources and respect for the health of producers and workers); and development (the approach involves a sustainable partnership with buyers and producer empowerment).
Within the L'OCCITANE Group, 3 sectors are committed to fair trade: shea butter in Burkina Faso and argan and orange blossom in Morocco.
*More information can be found on www.fairforlife.org.
Organic agriculture certification: 30 key certified fields
Organic Farming is a production method that respects the environment and animal welfare. It excludes the use of GMOs and strictly restricts the use of synthetic chemicals.
The rules are based on a European regulation that applies to all member countries of the European Union. By 2016, France already had more than 28,000 organic-certified farms.
Within the L'OCCITANE Group, 75% of our strategic sectors are certified organic.
AOP: high quality lavender essential oil
The "Appellation d'Origine Protégée" (protected designation of origin) is an official European quality mark that guarantees a product's origin. 
The criteria for obtaining an AOP label is based on a combination of recognised know-how and the type of territory, as it is these 2 elements that give a product its true characteristics.
The Haute Provence lavender essential oil that we use has been certified AOP since 1981. AOP certification gurantees the quality and traceability of the essential oil. To merit an AOP label the essential oil must be of the purest quality, distilled by the traditional method and using only the finest lavender that grows at 800m altitude on the correct type.
Our organisation
ISO 14001
Our activities, from product design to in-store retail (for stores operated by the L'OCCITANE Group in France), are now certified by the ISO 14001 international norm.
By doing so, we are able to continually work on reducing the impact we have on the environment, a commitment that lies at the heart of the Group's environmental policy.
OHSAS 18001
Our industrial sites located in Manosque and Lagorce are certified by the OHSAS 18001 norm. The OHSAS 18001 certification confirms the implementation of approved health and safety regulations at the workplace.
Our buildings and gardens
High quality environment (HQE)
The French HQE ("Haute Qualité Environmentale") certification signifies respect for the environment, quality of life and economical performance. Our distribution centre in Manosque received HQE certification in 2012, followed by our warehouse in Lagorce 2015.
Minergie and BREEAM
We have chosen to locate our international HQ in Geneva, Switzerland, in a Minergie certified building. Minergie is the Swiss certification that aims to reduce energy consumption and use of energy in a more rational way, privileging the use of renewable energy in particular. BREEAM certification is used to measure the environmental performance of a building.
LEED Platinium
We took the decision to store some of our products in a new Distribution Centre (DC) in Singapore. This DC has the highest level of Green Mark Platinium and LEED Gold certification, signifying that the building meets the highest environmental standards. The site has been designed with energy saving methods and has has heat resistant external walls. Other highlights include natural lighting and controlled air quality so as to create a more pleasant work environment.
The site consumes approximately 50% less water than an average building of similar size, thanks to various water-efficient techniques, such as rainwater collection and water-saving taps. The distribution centre's air condition system is also particular energy efficient, and is powered by Singapore's recyled water (NEWSER).
*LEED Gold certification : "Leadership in Energy and Environmental Design"
Our finished products
Melvita
All of the products produced by our organic Melvita brand are certified with the following:
ECOCERT (reference for ecological and organic cosmetics)
COSMEBIO (label created by the French organic cosmetics association)
COSMOS (reference of organic and natural cosmetics, recognised across Europe)
L'OCCITANE en Provence
The organic products produced by our L'OCCITANE en Provence brand (shea butters and balms) are certified in accordance with the ECOCERT norm.