Sourcing and manufacturing our products
We manage the manufacturing of our products from start to finish.
Discover our production sites
Made in France
The L'OCCITANE Group is pleased to offer visitors a 1 hour guided visit of the factory free of charge all year round, giving you the chance to discover the real behind the scenes and see how our products are made. The Manosque site also hosts the L'OCCITANE Museum, where visitors can enjoy interactive experiences and temporary exhibitions that change according to the season, as well as our Mediterranean Garden to learn about the aromatic and medicinal plants that we in our skincare products and fragrances. Since 2017, the garden has been committed to the Refuges©LPO program to preserve and promote its biodiversity.
Manosque is home to one of the largest L'OCCITANE en Provence stores onsite at the factory and visitors can benefit from preferential prices and a personalised service.
Our site in Lagorce is the home of our Melvita brand. The site includes a flagship Melvita store and visitors can enjoy preferential services and expert advice from our store managers. There is no L'OCCITANE en Provence store at Lagorce.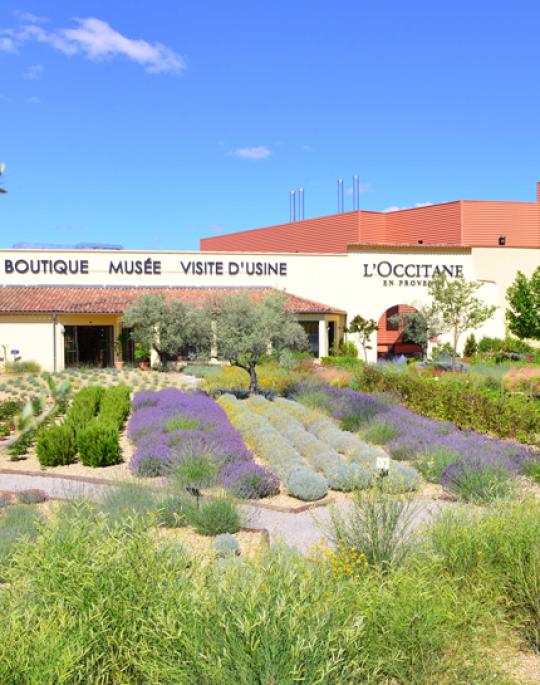 Our supply chain
We have developed an efficient and sustainable manufacturing process that converts the best natural and organic ingredients into desirable consumer products with minimum impact on the environment.

From extracting and sourcing raw ingredients to developing innovative formulae in the laboratory and mixing ingredients at the factory, our specialised teams work relentlessly to ensure smooth operations and maximum customer satisfaction.
Raw materials and the extraction process
All of our brands use natural and organic ingredients and work with technical experts out on the field to guarantee their quality.
The extraction process is equally important and we use innovative techniques, combined with traditional knowledge, to leverage the power of nature and transfer the natural plant benefits.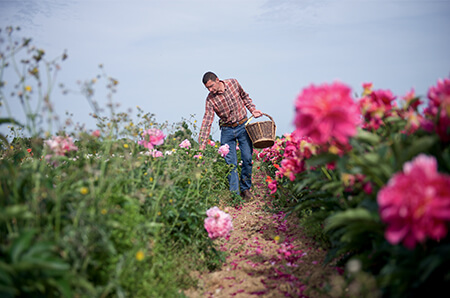 Sourcing and purchasing
Acting responsibly is a priority for the L'OCCITANE Group and CR lies at the heart of our sourcing and purchasing process. We have a team of agronomist experts who are dedicated to ensuring that strategic raw materials are produced sustainably. We have also developed the "Sustainable Communities" programme to tackle sustainability challenges.

For our key natural ingredients, we work directly with our suppliers and business partners and ensure that we are responsible business partners for subcontractors and suppliers at each step of the process.

The purchasing process involves many activities, from defining needs to following up with the accredited supplier, so we provide training for our purchasing staff and foster long-term relationships with our key suppliers.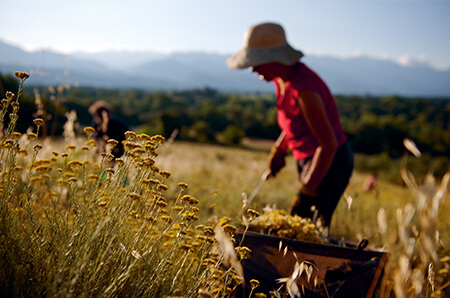 Working with a network of trusted local partners
Our relationships with suppliers go beyond business. We take a pride in raising awareness amongst suppliers and build lasting relationships that are based on mutual trust and respect.
When possible, we purchase local products so that we can reduce our carbon footprint and support local suppliers. By giving priority to smal and integrated networks we are able to control the traceability of our ingredients.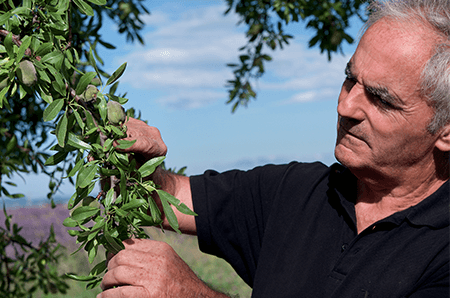 Research and development
Innovation is a central focus for the L'OCCITANE Group. Our laboratory experts are continually working with new natural ingredients to develop formulae for innovative products that improve the sensorial experience. To ensure that the microbiology and stability are correct, between 10 and 50 tests are necessary before a new formula can be finalised. Each year, we create more than 400 new formulae and now have more than 50 patents delivered or pending in France.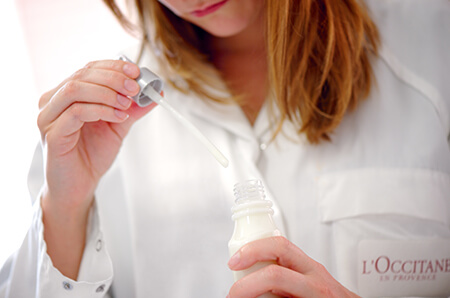 L'OCCITANE nature lab
At the L'OCCITANE Nature Lab, we have a team of industry specialists who practise more than 20 scientific disciplines and are renown for their skincare expertise. The lab is composed of several departments, including molecular and cellular biology, analytical chemistry, plant extraction, microbiology, sensorial analysis, clinical evaluation and 3 formulation laboratories (prospective, skincare and personal care).

Our experts are inspired by phytotherapy and aromatherapy principals and take care to privilege natural and organic oils and avoid the use of petroleum-based or animal products.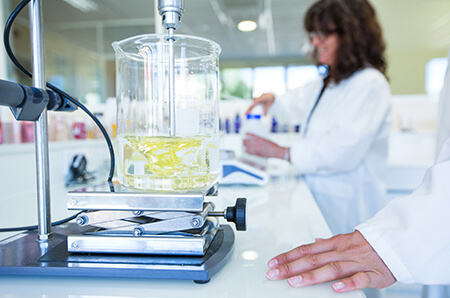 Transfer to manufacturing site
The raw ingredients are transferred to one of our manufacturing sites in Manosque or Lagorce. Our Manosque factory produces perfumes, toiletries and hot filled products and has around 800 members of staff working from the 65,000m2 production site. Face, body creams and handcare are manufactured in Lagorce, where 200 employees work at the 32,000m2 production site.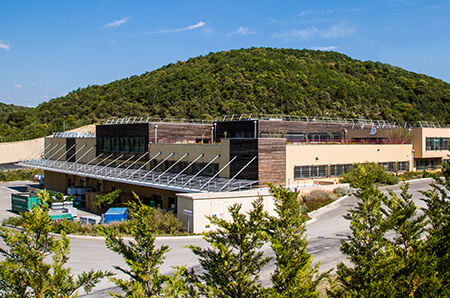 The manufacturing process
Once the raw ingredients arrive at one of our manufacturing facilities, they are first checked for quality. If the seal of approval is given, they are moved to the weighing zone - an entirely clean area that is isolated from the rest of the factory to ensure maximum hygiene.

The correct quantities are transferred to the manufacturing zone, where the ingredients enter the giant emulsifiers according to the carefully calculated product formula. Some of the bulk require heating, for others it is more a question of timing. On average, however, the production time required is around 10 hours.

The bulk is finally controlled for quality, ready for transfer to the filling and packaging zone.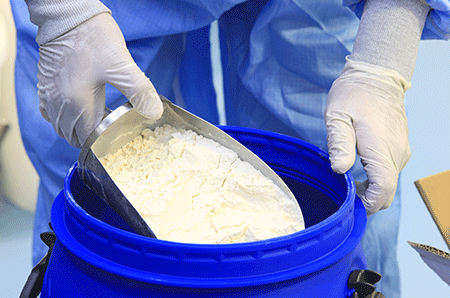 Filling jars bottles and tubes
Most of our products are sold in jars, bottles and tubes. The filling process combines machine-operated techniques, such as filling the containers, screwing on the caps and sticking on the labels, with manual actions that require individual human intervention, notably the controlling of labelling consistency.

The final packaged products are controlled for quality and loaded onto pallets, ready to be moved to our Distribution Centre.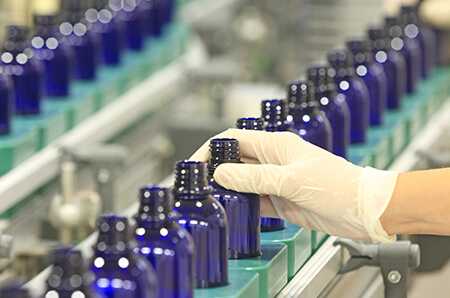 Quality and safety control
The quality and safety of our products is a key priority. Tests are carried out throughout the different stages of product development and continue during the manufacturing phase. Depending on the product, between 30 and 40 quality controls are conducted throughout the production process to ensure the very best quality and consistency across all of our products.

If a product fails to satisfy a customer despite all of the meticulous controls during production, our dedicated customer support staff will carefully investigate the enquiry.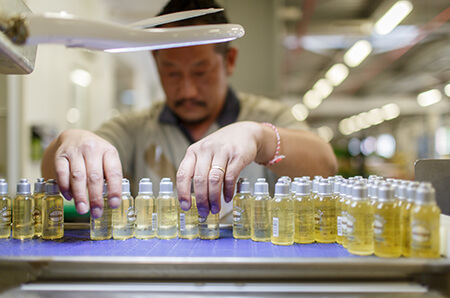 Our products