Back to latest news
Learn more about L'OCCITANE en Provence's commitment to reducing waste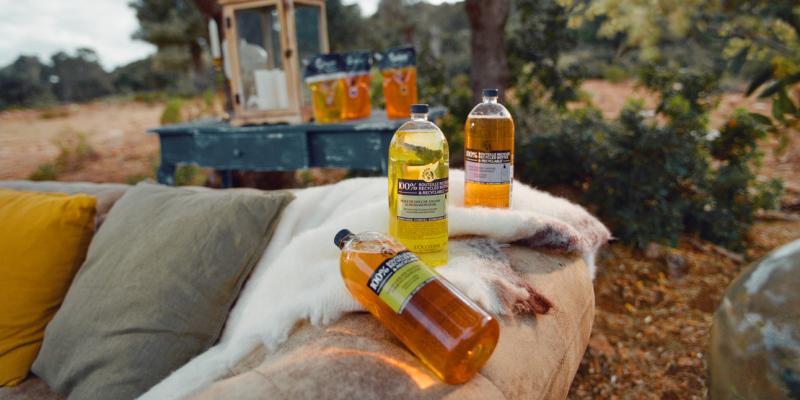 The Ellen Macarthur Foundation's Global Commitment has shown that it is possible to make meaningful progress to tackle plastic waste – but the world remans significantly off track. We need both an ambitious internal legally binding instrument and greater business action if we are to stop the flow of plastic pollution. L'OCCITANE Group is a proud signatory of the Ellen Macarthur's Global Commitment report and is committed to being part of the solution to tackle plastics waste and pollution.

L'OCCITANE en Provence's commitment to reducing waste has been further emphasized through their release of new eco-refills. Previously contained in a Doypack ® pouch, L'OCCITANE EN PROVENCE's eco-refills of shower gels, liquid soaps and shampoos are gradually being packaged in a new recyclable and 100% recycled bottle. From June 2023 onwards, Almond shower oil, Lavender liquid soap and Verbena liquid soap are available in this new format. The new eco-refill is innovative in terms of the eco-design process and has met the challenge of balancing flexibility, lightness and resistance. A hybrid between a pouch and bottle that effectively protects the formulas it contains. In 2022, nearly 4 million units of L'OCCITANE en Provence eco-refill pouches were sold worldwide. A 10% to 20% growth in sales, depending on the range, is expected for eco-refill products, thus helping to generate more virtuous consumption habits.

Let's collectively choose to get onto the path that stops plastic pollution!

Read the full Ellen Macarthur Foundation report here: The Global Commitment 2023 (ellenmacarthurfoundation.org)