Back to latest news
Sotaro Amano appointed President of L'OCCITANE Japan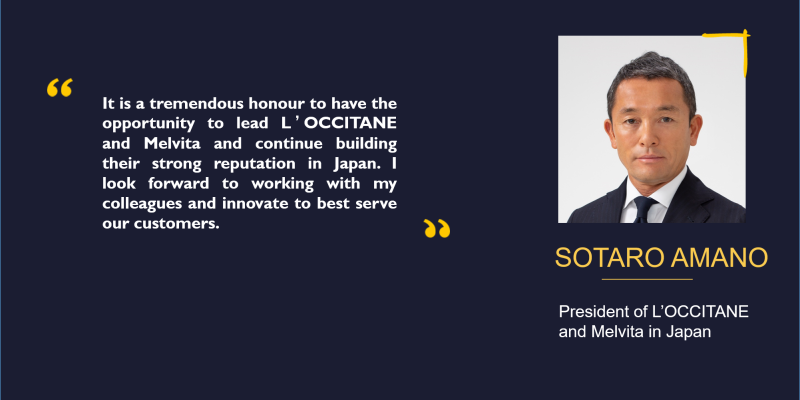 The L'OCCITANE Group is pleased to announce the appointment of Sotaro Amano as President and Representative Director of L'OCCITANE and Melvita in Japan, effective 15 April 2021. He will report directly to L'OCCITANE Group Managing Director Yves Blouin and will join the Group's Executive Committee.
Japan is the Group's third-largest market, employing more than 1,000 people and accounting for 13.4% of overall sales. It is a strategic market for the L'OCCITANE en Provence and Melvita brands, and one in which the Group operates 158 stores.*  
Prior to joining L'OCCITANE, Sotaro was CEO, President and Affiliate Management Representative of the Abbott Japan Group. Before that, he managed the Japan business for Hoya Healthcare Corporation, Lenovo and Abbott Medical Optics as President. He then became Division Vice President of Commercial Operations for Asia Pacific and Japan at Abbott Medical Optics. Sotaro began his career at Sharp Electronics in the UK in 1991 and in 2000 he moved to Dell Japan, where he held various leadership roles. Sotaro is a graduate of the Josai University of Tokyo. 
L'OCCITANE Group Managing Director
I am delighted to welcome Sotaro Amano. His extensive expertise in managing the Japan business for global brands as well as his experience in business planning, sales and marketing will be instrumental in driving the Group's growth and profitability in Japan.
*As of 31 December 2020